Master Logger Spotlight – CTL Land Mgt. Services
WASHINGTON, ME – CTL Land Management Services was founded in 1998 by Kyle Overlock and Gavin McClain, and has been a Master Logger company since 2003.
As the name makes clear, CTL is a cut-to-length logging company, with five employees running two cut-to-length operations and a small kiln-dried firewood business, Hobby Hill Firewood.
Gavin and Kyle first met working for a landscaping company in the mid-1990s. At that time Kyle was cutting wood in the winters and landscaping in the summers, and following his example Gavin began cutting on his own land in the off-season to make additional money. By 1996 the two had begun logging together, each with their own cable skidder, but it was in 1998 that they officially joined forces and went in a different direction.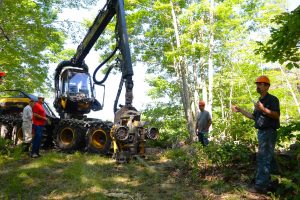 Gavin recalls learning about cut-to-length logging first at a 1997 logging show, and then from brothers Don and Will Cole of the Trees LTD. logging company in Sidney, Maine. (Trees LTD. is a Master Logger company).
"They were very patient. I learned a lot from those guys, they're good people," Gavin said.
At the time, the cut-to-length method of logging was being encouraged by some of the larger buyers in the market and the quality of work it allowed was attractive to landowners. CTL Land Mgt. Services went into it and has never looked back.
Over the years the company has expanded to include the two cut-to-length operations, kiln-dried firewood with delivery, and a bulldozer and excavator for road building and Best Management Practices (BMP) tasks.
CTL subcontracts portions of some jobs out to logger Jeff Moran, who runs a traditional one-man cable skidder operation, for difficult terrain and large diameter, high-value veneer timber where cutting by hand is the best way to ensure no damage to the wood.
These are difficult times in logging and CTL is dealing with the same poor markets, high equipment costs, and competitive challenges facing most loggers today.
The mid-coast Maine area in which CTL is based has a great deal of untapped logging potential with many private landowners uncertain about whether to harvest their lands and wary of logging. This makes it a competitive area in which to operate, with a mix of independent logging companies vying with others organized and backed by industry buyers. A logging firm has to remain adaptable and professional to succeed, and can be hurt by any bad experience a landowner has with another company – bad news travels faster than good when it comes to logging.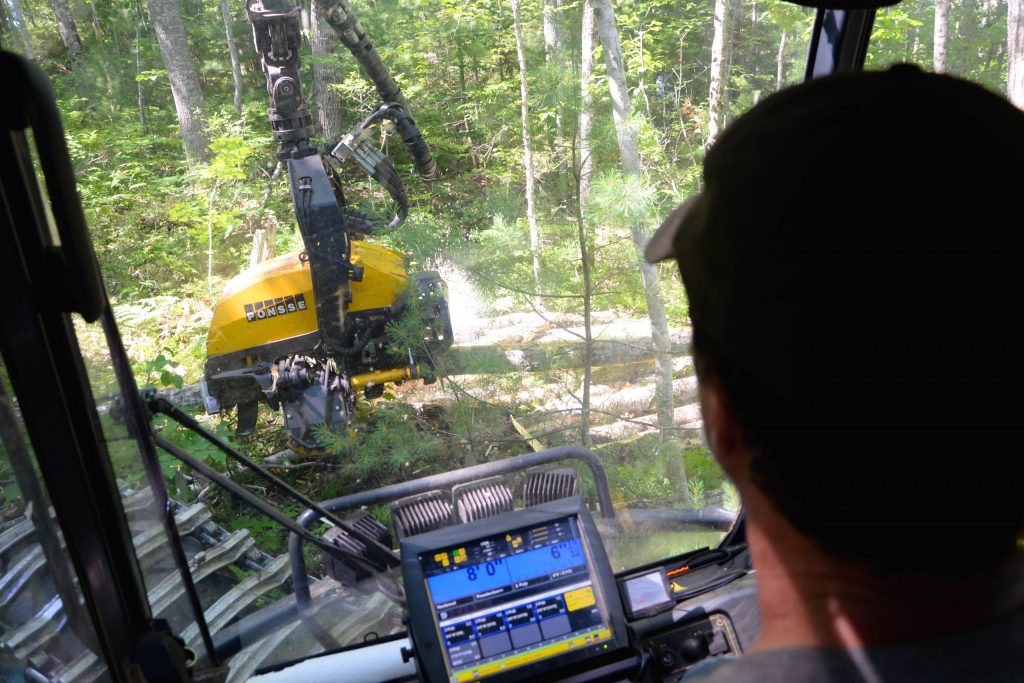 Being a Master Logger company definitely helps in this environment.
"I don't use it a lot as a marketing tool, but if I have a landowner who may be a bit skeptical or on the fence, I always refer them to Master Logger standards and the webpage, it offers peace of mind," Gavin said.
CTL sells much of its timber to Verso Paper and so CTL is in a holding pattern for now in terms of future plans, waiting to see how Verso's emergence from bankruptcy affects its Maine operations.
In the meantime, Gavin and Kyle are loggers because they love the outdoors and the work, and CTL is busy and focusing on the professionalism and hard work Master Loggers are noted for, a solid business plan in any environment.
Gavin McClain, at right, leads a Master Logger walk for members of the public in Waldoboro in July.
Kyle Overlock at the controls of a Ponsse Scorpion King harvester.