Master Logger Spotlight – Sawyer Logging
UNION, CT – Perry Sawyer is currently the only certified Master Logger based in Connecticut, but he is used to being on his own.
His company, Sawyer Logging, owns two skidders, a loader/slasher/delimber, and a feller buncher, but Perry operates all of them himself as a one-man logging crew.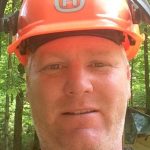 "It's a bit challenging at times," he said, "but I like them all, that's why I'm still doing it myself." Perry got started in logging when he was a forestry student at the University of Maine, working weekends with his roommate cutting four-foot wood with a tractor and a small wagon. He loved working in the woods and after graduating in 1994 with a bachelor's degree in forestry he worked a series of forestry related jobs in Maine but said, "I always wanted to get back into thewoods, that's where the action was."
In 2001 Perry was living in Denmark, Maine and bought a 640D John Deere cable skidder and started logging. He spent the next couple of years working in southwestern Maine. Then in 2003 during the down time of mud season he was looking for work and found three jobs in Connecticut, where he grew up. "Three jobs led to four and four led to five and I realized there was a good hardwood saw log market here, a good firewood market, and the rest is history," Perry said.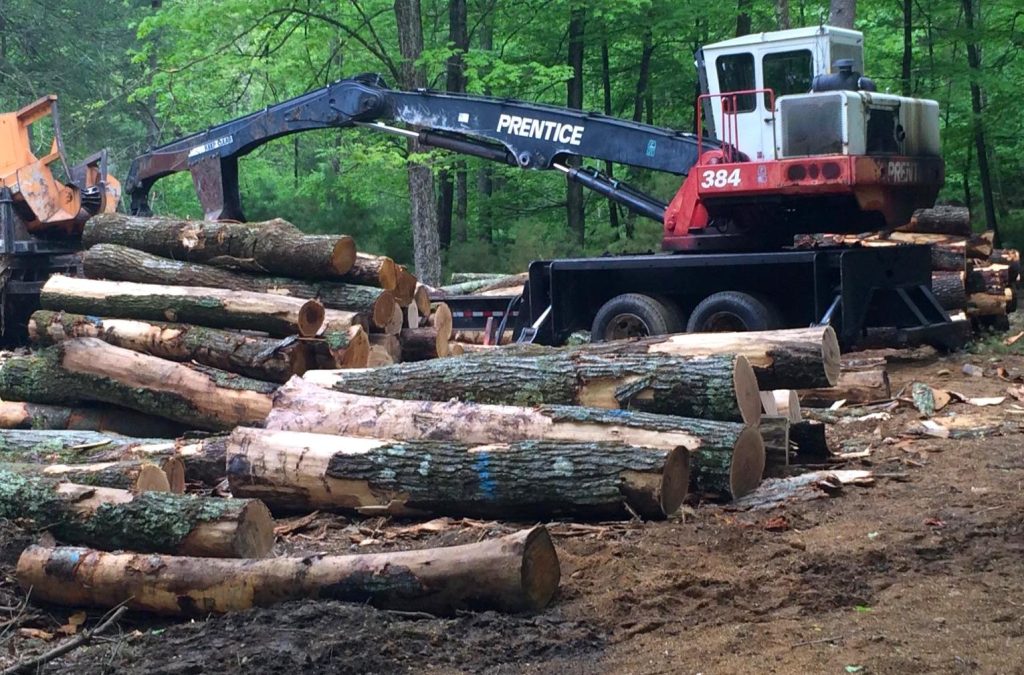 He relocated to Connecticut and built up a business and a reputation working in northeast Connecticut and in portions of Massachusetts primarily doing selective harvesting for private landowners, Yale University, and Hull Forest Products, Inc. Over the years he added equipment – a John Deere 648 dual arch grapple skidder, a Prentice 384 slasher/loader/delimber, and a Timbco 445 feller buncher, of which the Prentice isprobably his favorite since, "I enjoy slashing wood and running the loader, its where the action is, it's where the money is made."
Perry became a Master Logger about a decade ago when the program began to expand beyond its roots in Maine, and was one of the early Master Loggers in that push, hearing about the program when he was looking for additional certification options to increase his professionalism. "It's been more of a personal professional certification that I've been very proud of and that I've continued to maintain," Perry said. "The third party inspection lends credibility to this program that no other program has, I really think that's the key, not only talking the talk but walking the walk in a state that doesn't have many loggers."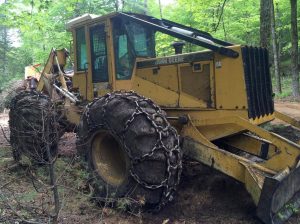 Perry has conducted sessions with Yale environmental science students educating them about professional logging and believes that sort of outreach can have a huge effect in the future as those students earn degrees and end up in decision-making positions. His company has remained a one-man operation in part due to the high cost of insurance in Connecticut and the difficulty of finding qualified workers for mechanized logging, though at some point he would like to expand if adding employees became financially feasible.
There are the usual challenges for loggers in Connecticut that loggers face everywhere; weather, equipment and repair costs, and changing markets. Events as far away as Maine have a ripple effect on his company, and he's had to get creative to find markets for some lower-value wood such as establishing relationships with truckers delivering saw logs to Connecticut from states like New Hampshire who are happy to truck a load of low-grade hemlock back to New Hampshire to avoid traveling empty.
There are signs of emerging markets such as bark mulch production in his area, and although some markets such as paper production are declining he is optimistic about the future of logging, and of his own company, Perry said.
"I'm totally committed to the industry and it's been a good industry to be part of," Perry said. "I have a young son and he's awfully interested in the woods – that's a long time away but you never know."