FORT KENT, ME – When he was eight years old Sherbey Morris began logging with his father, and since then the only years he hasn't spent working in the woods were the two he served in the military, and when his service was done he got a homecoming any logger in frozen northern Maine could appreciate.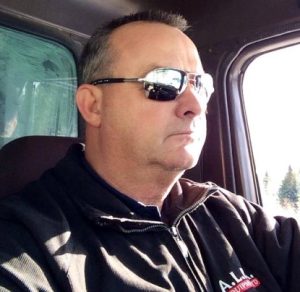 "I came back home in 1976 from being overseas, and I had a brand-new Partner chainsaw 5000 waiting on the porch steps for me, and it was 30 degrees below zero," Sherbey recalls.
There have been a lot of years and a lot of hard work since then. When Sherbey came home that winter in 1976 he had already spent several years logging with his father, first yarding wood with a horse, then sawing on the yard, and finally at 14 cutting wood. At 15 he got a work permit and went to work at a lumber camp in the summer and got his first experience with a skidder. After the military, he took the new Partner chainsaw and went back to work in lumber camps for a few years.
Sherbey got married along the way, and bought his first skidder – an old Franklin – in 1981, later trading up for a Clark skidder. In 1984, major sales of paper company lands shook up the market and work got scarce so he began taking on small, private landowner jobs, woodlots mostly. The work led to more work, and eventually it was time to expand.
Morris Logging Inc. was incorporated in 1985. Sherbey started small, with one crew member, and built up slowly over the years, adding equipment and crew, taking on bigger jobs, and more variety. Nothing came quickly, but today more than 50 years after that eight-year-old walked into the woods behind his father, Morris Logging is an established, well-respected professional logging company.
With 16 employees, Morris Logging operates within about a 70-mile radius of Fort Kent on the U.S. side of the border, splitting harvest jobs roughly evenly between small private landowners and large company landowners including Seven Islands, and Huber Resources.
Morris Logging has also diversified its services beyond traditional timber harvesting. The company handles thinning, selective harvesting, chipping, building roads and driveways, preparing house lots, plowing snow, grading, and other jobs as needed.
John Ouellette has been with Morris Logging the longest, since 1994, but many employees have 10 years or more with the company and Sherbey credits that experience and the quality of his workers for much of the success and reputation Morris Logging enjoys.
"Finding qualified people that are able to do this job and to be able to work the hours that are necessary to keep this going is a challenge," Sherbey said. "You have to have very good people, and these are the very best of the best here."
Between Sherbey and the crew you won't find much on tracks, treads, or wheels that Morris Logging hasn't owned or operated at one time or another.
"I've changed my logging operation four times since I've been in business. I went from cable skidders, to feller bunchers, to processors, and then back to feller bunchers with chippers, so I have done what I've had to do to market my wood, I've been willing to change with the flow," Sherbey said. "There's not a machine on this job that I haven't tried to run myself. I never ask a man to do something I can't do myself."
It helps to have sense of humor in logging. Asked what his favorite piece of equipment is, Sherbey first says a fly rod, then a boat and motor. Finally, he admits it's the grader.
"My favorite piece of equipment on the job is a grader. It's the one I run, and most people move out of the way when I come down the road," Sherbey said, and his crew has a good laugh agreeing with that.
Morris Logging was one of the earliest companies in the state to achieve Master Logger certification, in 2002. Sherbey wanted to feel comfortable that the harvesting the company was doing was sustainable and professional, and it has been satisfying to know that the work they are doing is certified by a third party. The Master Logger brand has also been helpful selling wood to mills that are seeking sustainable yield forestry and recognize the brand.
The biggest challenge in logging today is the markets, Sherbey says, particularly the loss of pulp mills, and rising equipment and insurance costs are also major challenges. Still, like many loggers who have been in the business for decades, he reminds people that logging has seen hard times before; when he started logging some wood including hardwood pulp was hard to sell, but today Morris Logging has a market for everything, including chipped limbs and tops.
The future of Morris Logging looks good if the markets hold up. Sherbey says he won't work forever, he's 60 now, but he's hoping to work another four or five years and if his son is interested he'd like to see the business pass on to him.
Logging is competitive, but when he's done telling the story of how he ended up in the business, Sherbey shares some advice that many without his experience could learn from.
"All the years that I've worked in the woods I've learned a very powerful lesson a very long time ago – I never considered another contractor to be my competition, I always considered them someone I could learn something from, and I've even cut for these people before," Sherbey said. "When it was hard to get wood, I've had contractors call me to cut wood for them because of the way that I handled my situation, and so I never wanted to say that someone was my competition, I always wanted to make sure that I could work with
everybody."