Master Logger Spotlight – John Conkey & Sons
B ELCHERTOWN, MA – John Conkey Sr. lives in a house built by his maternal ancestors in 1860 with wood from the water-powered sawmill they operated more than 150 years ago. His father and grandfather also owned sawmills, so you could say the family has been in the woods business for a long time.
John didn't start off on that path though, he worked as a mechanic for Chrysler for 27 years first, but as many loggers will tell you, when the woods are in your blood it's only a matter of time before you end up there yourself.
In the case of the Conkey family and their logging business, John Conkey & Sons Logging, it was John's sons – John Jr. and Ken – who started logging first, with a Caterpillar skidder in 1986. They were ambitious and soon began piling up a lot of wood to the point that it was hard to get it trucked reliably, so in 1988 the Conkeys bought a GMC General log truck and John Sr. gave his notice at Chrysler to join them.
"I went to work with them in 1988 and from there on it was the three of us, and then we began buying our own timber lots and cutting our own timber and trucking it to the mills," John said. "It kind of happened backwards, but I was never sorry that I got through in the garage."
In 1990, the company began to get into mechanized logging and bought a forwarder. A feller buncher was added a couple of years later, then another forwarder. Today the company is fully mechanized with a Komatsu 430 harvester with a Risley head, a Timberpro 830 forwarder, and a John Deere 1110 forwarder. In 1996 they upgraded to a new Western Star log truck with a rear mount log lift loader which is still running today.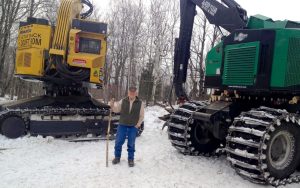 While Massachusetts may not be thought of as a big logging state, there is plenty of harvesting there and John Conkey & Sons has built a reputation for honest, professional work that keeps the company very busy. The logging is often demanding due to regulations and challenges associated with working on protected lands and/or sensitive lands.
One of the earliest areas the company worked in was the Quabbin Reservoir, where John Conkey & Sons Logging learned a lot about how to handle challenges with wetlands, wildlife, and recreational use lands.
"Everything seemed to be an issue when we first started in there so we learned right away how to manage working in the woods and not get in trouble, and I'd have to say that was a good learning experience working in there for years," John said. "We still work in the Quabbin today."
The company tries to work within a 50-mile radius of home, largely in Western Mass. They still do a lot of work on Chapter 61 forestlands. They do many wildlife cuts, recently did a cleanup on a 50-acre parcel hit by atornado, and stick mainlyto harvesting pulpwood,saw logs, and firewood.They don't do chipping,and generally refer houselot jobs to other companies.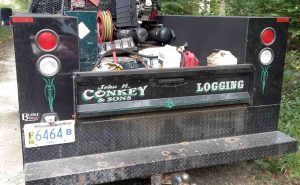 There are plenty ofchallenges. Trucking costsand regulations are gettingtough. The hardwoodmarket has been good andthe pine market prettystable, but the loss of pulpmarkets is hitting them ashard as it is most loggers inthe Northeast. Then thereare a host of invasiveinsects including thehemlock wooly adelgid andthe emerald ash borerputting pressure on theforests in the state.
"One of our biggestchallenges is trying toconvince our town,Belchertown, that timberharvesting is agriculture100 percent," John said. "Ihave my favorite saying onmy trucks, 'Farming theForests,' and I believethat's exactly what we do."
Hard work and professionalism is key to remaining in business, and when the Conkeys learned of the Master Logger program they saw it as an opportunity to showcase their good work and build markets with mills that were looking for suppliers who were Master Logger certified. They don't advertise, and the Master Logger brand has helped them in a word of mouth business, John said.
While he loves what he does, John is planning to semi-retire from the business in another year, and John Jr. may also be reaching a point where he will reduce his time in the woods. Still, it appears that the company will be continuing on as a family operation; both his grandsons, Hayden and Joey, are already working in the woods and they love to run equipment and also have commercial driver's licenses, so the prospects for the future of the company appear strong.
"I would say within the next two years they are going to be in the business full time, so actually there's three generations in the business right now, and it looks like the logging will go on," John said.