BANGOR, ME – The Trust to Conserve Northeast Forestlands (TCNF) held it's 2021 Annual Meeting on Friday, Oct. 29, presenting awards and welcoming new loggers to the Northeast Master Logger Certification Program, which TCNF administers.
The event at the Cross Insurance Center in Bangor, ME was attended by dozens of Master Logger certified companies from Northeast states, who gathered in person for the first time in two years. The 2020 meeting was held online due to the COVID-19 pandemic.
Master Logger Sam Lincoln of Lincoln Farm Timber Harvesting in Vermont was awarded the 2021 Master Logger Leadership Award, which is presented to outstanding supporters of the Northeast Master Logger Certification Program.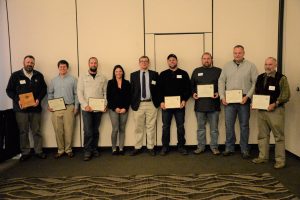 Sam is an exemplary Master Logger who served for nearly four years as Deputy Commissioner for the Vermont Department of Forests, Parks, and Recreation. In that role, he was a strong advocate for loggers and the industry who earned praise for focusing on practical, on-the-ground solutions to ensure forestry operations are conducted in a way that protects water quality. He championed work related to Vermont's forest economy, including logger safety training, a workers' compensation insurance program for employers, in-the-woods workshops for loggers designed to improve water quality, forest management mobile technology tools, and initiatives supporting forest products businesses.
"It was great to have so many Master Loggers in attendance, to recognize Master Logger Sam Lincoln of Lincoln Farm Timber Harvesting in Vermont with the 2021 Master Logger Leadership Award, and to welcome new Master Loggers who earned certification in 2020 and 2021," Ted Wright, Executive Director of TCNF, said. "The last year has been one of expansion and progress for the Trust and the Master Logger program, and we are excited to look ahead at plans for even more in 2022."
In the past year, the Trust and the Master Logger program have:
• Won a $250,000 grant through The Future Forest Economy Initiative to enhance markets for certified wood and to strengthen the supply chain for wood in the Northern Forest region by expanding the ranks of certified Master Logger companies in the region, with a focus on New Hampshire, New York and Vermont.
• Launched a highly successful series of logger stream crossing workshops across the region. Logging contractors in the Northeast routinely face challenges associated with streams and wetlands when conducting timber harvests and have great expertise when it comes to logging without impacting water quality on the job site and in waters downstream. Building and maintaining stream crossings that minimize runoff are an important part of that, and the workshops are an opportunity not only for loggers to refresh their skills, but to share their own experiences and ideas with the greater logging community. 
• Conducted a harvest tour in Oct. 2021 hosted by Maine Master Logger Trees Ltd. with U.S. Secretary of Labor, Marty Walsh. Walsh participated in a roundtable discussion with Don and Will Cole of Trees Ltd., and Master Loggers Steve Hanington, Duane Jordan, and Tony Madden. The event was also attended by U.S. Congressman Jared Golden of Maine and the media.
• Won additional recognition for certified Master Loggers when it comes to meeting fiber sourcing and forest management standards. The new recognition will become effective in 2022.
• Expanded outreach efforts to certify additional Master Loggers. including two recent meet and greet events in New York and a strong presence at the 2021 Northeastern Forest Products Equipment Logger's Expo in Maine.
New Master Logger companies in 2020 and 2021 include:
1.  Aldrighetti Logging, LLC, Randolph, VT.
2.  Burbank Logging & Trucking Inc., Weld, ME.
3.  Charles Lane Inc., Sherman, ME.
4.  Crown Point Excavation, LLC, Chester, VT.
5.  Emerson And Sons Logging, LLC, Groton, VT.
6.  Fortune Trucking LLC, Washington, ME.
7.  JCG Logging Inc., Fort Kent, ME.
8.  Kimball & Sons Logging & Trucking, Poland, ME.
9.  L.E. Taylor, Porter, ME.
10.  Lipsky Logging and Land Clearing, LLC, Stowe, VT.
11.  LJG Woodlands LLC, Fort Kent, ME.
12.  McCafferty Logging, Hebron, ME.
13.  NDB Logging, ME.
14.  Olmstead Property Services, LLC., Bethel, VT.
15.  Pepin Lumber, Coburn Gore, ME.
16.  Plummer Forest Products, Palermo, ME.
17.  R & J Logging, New Limerick, ME.
18.  Rolling Meadows Farm Logging, Reading, VT.
19.  S&S Logging, Inc., Wallagrass, ME.
20.  SKS Furbush Logging, LLC., Smithfield, ME.
21.  Southwind Forestry LLC, Pawlet, VT.
22.  Spaulding Field & Forest, Hartland, VT.
23.  Third Branch Horse Logging, LLP, Braintree, VT.
24.  Thurston Forestry, N. Clarendon, VT.
25.  TNT Road Company, Inc., Fort Kent, ME.
The Northeast Master Logger Certification Program was created in 2000 as the world's first point-of-harvest certification program, offering third party independent certification of logging companies' harvesting practices. In 2003, the TCNF was created to administer the program with the broader goal of "enhancing the health of working forest ecosystems through exceptional accountability" throughout the Northern Forest region.
In addition to administering the Master Logger program, TCNF administers an FSC®-certified group of family forest landowners throughout New England and New York. Under this arrangement forest landowners can inexpensively gain access to FSC® group certification. TCNF is the administrative body that holds the FSC certificate and has overall responsibility for compliance with the FSC® Northeast Regional Standard.
TCNF also administers an FSC®-certified group of Chain of Custody that provides an information trail, established and audited according to rules set by FSC, for Master Loggers and wood products companies to ensure that wood comes from certified forests.
Learn more at tcnef.org and masterloggercertification.com